Year 6 Leavers Hoodie
Year 6 Leavers Hoodie
29 April 2020 (by Carol Sambrook)
The Year 6 Leavers Hoodie is now available to view and order on the School Shop Direct Website. Orders must be made by Friday 8th May, 2020. After this date the hoodie will be removed from their website & no further orders will be accepted.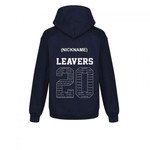 Due to the current situation the hoodie must be ordered & paid for online and will be delivered direct to your home address (delivery charge is £4.50).
All orders will be processed together as they have to be printed in one go. There will be an approx. 4 weeks turnaround for the hoodies to be produced & delivered.
As the hoodie forms part of our school uniform, if your child wants a name on the back of their hoodie it it is advised that it should be their first name or surname only.
Thank you.